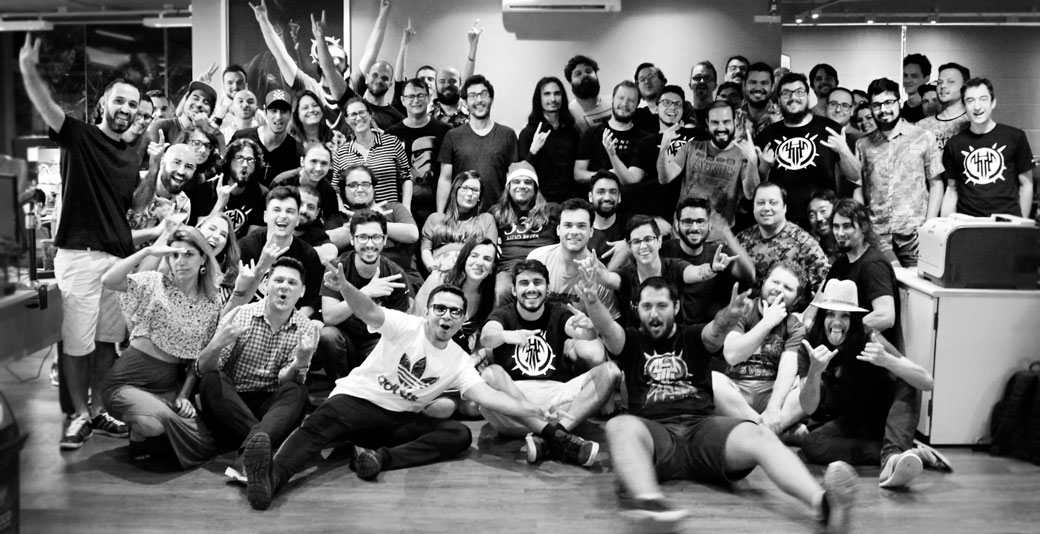 Work with us
We are always looking for new professionals who fit our kind of crazy creation and bring us unparalleled results. If you think you are a culture fit and would like to join us, please contact us! We look for people who are just as excited and passionate about gaming as we are.
Find your position
QA - Quality Assurance
No openings
Marketing
Community Manager
Florianopolis, SC - Brazil
Community Manager
Florianópolis, SC
Devise a plan of player engagement with our current and future products, which will build a solid community foothold for Heavy Metal Machines in Brasil and beyond.
Create valuable and attractive content for players.
Engage players on YouTube, Facebook, Forum, and other social media channels.
Keep players happy and motivated by building engaging, player-focused retention programs.
Be instrumental in driving the dialogue between the player community and the Heavy Metal Machines team.
Create and coordinate community-facing initiatives including contests, volunteer programs, fansite efforts, collegiate programs, offline events, convention presence, email campaigns, and social media initiatives.
Be responsible for generating all key messaging related to games and services. Engage with third parties to spread the Heavy Metal Machines word.
Collaborate with other teams on player advocacy efforts, engagement programs, and community training to help the Heavy Metal Machines team ramp up community interaction and support community values.
Requirements
Game addict, free-to-play games are part of your life.
Proactive. Being able to join a meeting with players as well as advocating on behalf of the community.
Be a team player. Possess the ability to collaborate and interface with a wide range of partners and cultures both internally and externally (Brasil and other countries).
Be a leader and coalition builder. Strong engagement skills, including ability to dialogue and settle disputes between players.
Possess exemplary communication skills. Accountable for the tone of voice and direction of forums at a high level, engaging the Player Experience Team and making sure that the team is armed with the key messages and answers to questions that players are asking. Generate positive sentiment in all community channels. Maintain an authentic voice and ensure that this voice is applied in all channels where engagement is happening, such as CRM, web articles, in-game, etc.
Community Literate. Being able to acquire clarity regarding the different segments of players inside Heavy Metal Machines and actively present them content that fulfills their needs depending on where they are in their lifecycle. Be the primary conduit of feedback (in and out of game) and sentiment reports to the team. You may harness the power of your team to gather the feedback but you will know the feedback and be able to articulate what the players want. Continuously play games and know what a good and bad community looks like.
Being ready to embrace a new game - your initial mission will be to develop an extensive knowledge of Heavy Metal Machines, becoming a specialist.
Desirable
Fluency in English and Portuguese.
Relevant training, and a proven track record of skills aligned to the job requirement.
1+ years of experience in a Customer Facing role.
Knowledgeable in E-sports.
Be a Metalhead, presence in the Heavy Metal Machines Community is a definite plus.
Informações da Vaga
Tipo de contratação: CLT
Carga horária: 40h
Remuneração: A combinar.
Benefícios: VT, VR (ou VA), Convênio com farmácia SESI.
Sounds like fun?
Please send your Resume and a Cover Letter to jobs@hoplon.com with the Job Title in the subject. **Only submittals with Cover Letters will be considered.
Marketing Intern
Florianopolis, SC - Brazil
Marketing Intern
Florianopolis, SC - Brazil
General Description
We are looking for people passionate about games to join our team! We'd like to have a Marketing Intern who enjoys teamwork, capable of acting in an honest and integrated manner according to Hoplon's rules and values, by learning, developing yourself and contributing to the growth of the company and the industry.
Related activities
Play our game identifying problems (during matches) and reporting hardships;
Interact with the comunity, collecting feedback;
Initial tecnical tests.
Requirements
Wide knowledge in game - heavy steam platform player and othe mobas;
Advanced English;
Studying from 2nd semester at a Higher Education degree in Marketing, Social Communication, Advertising.
Job Information
Type of contract: Internship
Workload: 6h
Salary: to be discussed.
Benefits: Public Transportation Voucher, Meal Tickets.
INTERESTED?
Send your résumé to jobs@hoplon.com, with the role's title on the e-mail subject!
Administrative
No openings